Discover How to Find the Right Nursing Home
How to Get Good Care There
and How to Pay for it Without Going Broke
​
The Texas Nursing Home and Assisted Living Guide takes you through the step-by-step process of selecting the right nursing facility, while keeping the needs and wants of your loved one in mind.
​
It includes an extensive Nursing Home Evaluations Form to help you with making the right choice.
The 57-point rating system helps you accurately evaluate the building and surroundings…the staff, policies and practices…your loved one's concerns…and family considerations.
​
With it, you'll feel confident in the facility you choose. You'll be at ease, knowing that your loved one is in a comfortable environment with people who care.
The FREE Nursing Home Guide covers other topics, such as:
How to Get Good Care in a Nursing Home
Division of Assets and Medicaid Planning…
How to Pay for the Nursing Home Without Going Broke

Exempt Assets and Countable Assets

What Can You Keep and What is at Risk
​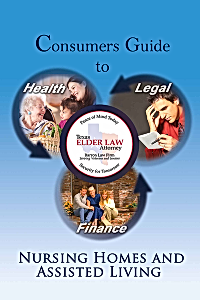 Click the Picture for your Free Copy
Call Texas Elder Law Attorney
Richard M. Barron
for a free 15 minute telephone consultation to see if we may be able to help you.
209 E. Main St., Whitesboro, Texas 76273